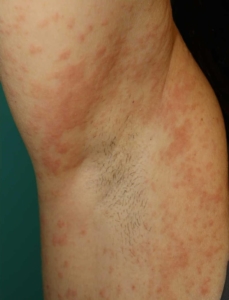 Severe acute respiratory syndrome coronavirus 2 (SARS-CoV-2) has been initially defined as a disease of the respiratory tract; however, with the increasing number of patients and announcing that the virus became a pandemic, new systemic clinical manifestations are observed, including dermatological manifestations. However, the identification and characteristics of these manifestations are still controversial. This review article aims to evaluate the medical literature and explore the dermatological clinical manifestations in patients with SARS-CoV-2.
Dermatological lesions are frequent in patients with SARS-CoV-2, especially erythema, urticaria, and varicella-like rash. Differential diagnosis should be thoroughly considered before deciding that the present rash is related to SARS-CoV-2 infections. Till present, the rash is not correlated to the severity of SARS-CoV-2 infection, which needs to be confirmed with studies with a more robust design and larger sample sizes. These findings should be considered by clinicians working with patients with SARS-CoV-2 in order not to misdiagnose the occurrence of dermatological lesions, which may delay therapy or increase the risk of complications.
Written by: Abdulelah Khalaf Nasser Almutairi, MBBS
Reference:
https://www.ncbi.nlm.nih.gov/pmc/articles/PMC7402433
https://ssdds.org/wp-content/uploads/2019/01/SSDDS-LOGO.png
0
0
Editorial Team
https://ssdds.org/wp-content/uploads/2019/01/SSDDS-LOGO.png
Editorial Team
2021-01-29 16:33:56
2021-01-29 16:43:04
Dermatological Manifestations in Patients With SARS-CoV-2.