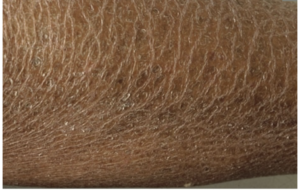 The most prevalent of the ichthyoses is ichthyosis vulgaris, a heterogeneous collection of inherited keratinization disorders characterized by extensive scaling of the skin of different severity. Pathogenic mutations in the filaggrin gene (FLG), which encodes profilaggrin, a key component of the keratohyalin granules in the epidermis' granular layer, cause IV. Individuals who inherit a single mutant allele are substantially less seriously impacted than those who acquire homozygous or compound heterozygous mutations, indicating that the IV inheritance pattern is semidominant.
clinical presentation:
The condition appears as widespread, dry skin with thin, white or gray scales on the extensor extremities and trunk in infancy or early childhood. Associated characteristics include hyperlinear palms and keratosis pilaris. Extensor extremities and the trunk are usually afflicted, with intertriginous (e.g., axillary, antecubital, and popliteal) skin remaining unaffected. It's unusual for the sides of the neck to be involved. Scaling has a range of severity. Individuals who have only one mutant allele (heterozygotes) have a modest phenotype that can be mistaken for simple dry skin, whereas individuals who have mutations in both alleles (homozygous or compound heterozygotes) have a more obvious condition. The severity of the condition varies dramatically by season, improving in warm and bright weather with high ambient humidity and deteriorating in dry and cold conditions.
Diagnosis:
The clinical diagnosis of ichthyosis vulgaris (IV) is based on the patient's personal and family history, as well as clinical findings on physical examination. Although individuals with homozygote or compound heterozygote variations of the filaggrin gene (FLG) who have a more severe phenotype may find it easier to diagnose, heterozygotes, who normally have a very mild symptom, may find it more difficult.
The following clinical signs and symptoms point to an IV diagnosis:
Scale: Fine, white or gray, central attachment; extensor surface of extremities and trunk involved; folds spared.

Palmar hyperlinearity: Major fissures are exaggerated, minor fissures are increased, and lines on the thenar eminence are accentuated.

Keratosis pilaris.
The following are examples of personal and family history that support the diagnosis of IV:
Symptoms appear shortly after birth, and are most common in early childhood.

Warm weather and emollients make a difference.

With age, there may be an improvement.

Atopic eczema or other atopic illnesses are linked.

Occurrence in the family
A skin sample with hematoxylin and eosin staining that shows a marked decrease or absence of the granular layer in the epidermis can assist confirm the diagnosis of IV. Biopsies are best performed on the extensor side of the arm or the shin. Electron microscopy can confirm keratohyalin granule abnormalities, despite the fact that it is rarely utilized for routine skin diagnosis.
Genetic testing – Although not regularly done in clinical practice, genetic testing demonstrating pathogenic mutations in the FLG gene offers the definite diagnosis of IV. Although variants differ within populations, and identification of "private" variants is difficult and may be overlooked unless Sanger sequencing or an equivalently comprehensive examination of the complete gene is performed, common population relationships may be beneficial for screening.
Treatment:
The goal of ichthyosis vulgaris (IV) treatment is to remove scales, reduce skin dryness, and improve the appearance of the skin. It entails regular bathing and the use of moisturizers and keratolytics.
1- Bathing – People with dry skin, especially those with IV, are frequently advised to take long baths to help remove scale. Although only a few studies back it up, this advice is basic sense and has lasted the test of time. The value of bath additives such as oils and sodium bicarbonate is debatable. After bathing, moisturizers should be applied, whether or not soaps or synthetic detergents were used.
2- Emollients and moisturizers — The mainstay of IV treatment is frequent and generous application of emollients and moisturizers. Moisturizers keep the skin hydrated and smooth. Humectants like glycerin, occlusives like petrolatum, emollients like cetyl alcohol, keratolytics like urea and alpha-hydroxy acids, and other ingredients are included. Occlusives, which are water insoluble but have a lower molecular weight than occlusives, prevent water loss; emollients, which are water insoluble but have a lower molecular weight than occlusives, smooth the skin; and keratolytics help remove scale.
3- In the therapy of IV, topical retinoids, steroids, calcipotriene, and systemic retinoids are not recommended. The treatment of atopic dermatitis is covered in another article.
Prognosis:
Individuals with ichthyosis vulgaris (IV) live normal lives with no known shortening of life expectancy, but they must cope with the daily treatment of scaling skin disease, which is frequently associated with moderate to severe atopic dermatitis. In the ichthyoses, quality-of-life studies have focused on the more severe conditions, but none have addressed IV.
The majority of people with ichthyosis want to learn more about their condition and how to best treat it. They usually have a better understanding of what works for their skin once they have this information, and they rarely seek medical help until they have a problem. This is especially true in IV, where eczema causes the most therapeutic problems and consequences.
Written by: Lama Altamimi, Medical intern.
Reference:
UptToDate
http://ssdds.org/wp-content/uploads/2019/01/SSDDS-LOGO.png
0
0
Editorial Team
http://ssdds.org/wp-content/uploads/2019/01/SSDDS-LOGO.png
Editorial Team
2022-01-11 13:06:11
2022-01-11 13:17:22
Ichthyosis Vulgaris