Janus Kinase (JAK) Inhibitors in Dermatology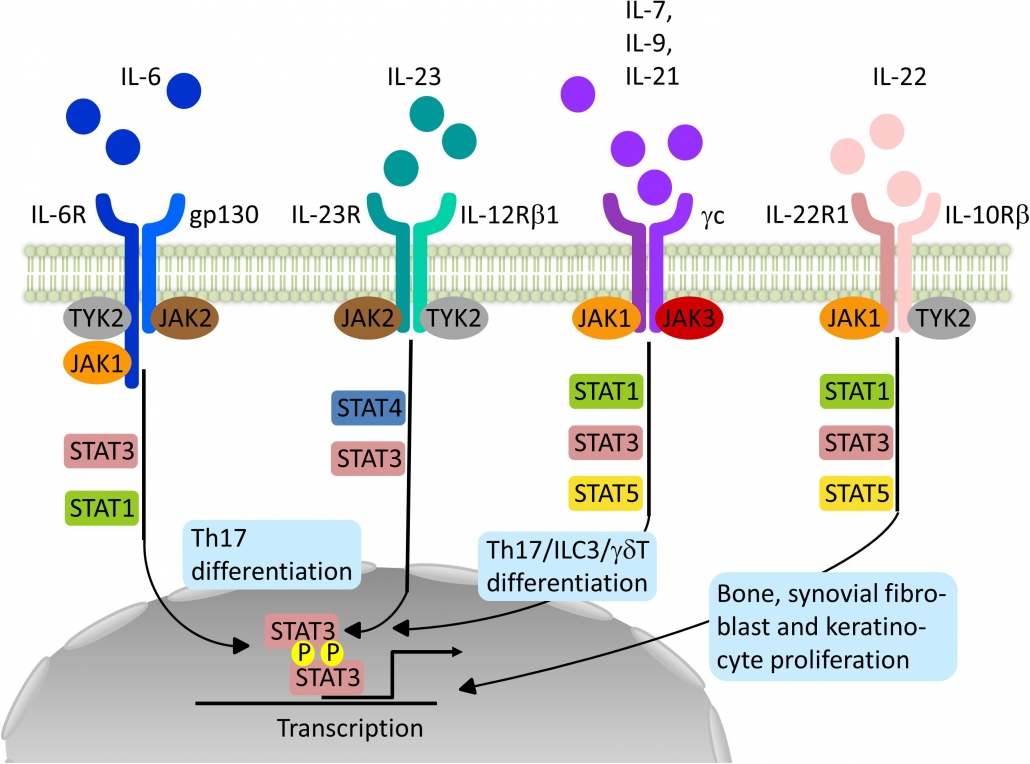 Janus kinase (JAK) inhibitors, also called jakinibs, are small molecules that interrupt the JAK-STAT (Signal Transducer and Activator of Transcription) signaling pathways involved in the pathogenesis of many immune-mediated and/or inflammatory diseases.
As Janus kinase inhibitors are small molecules they can be used topically or orally, unlike biologic agents which require administration by injection. They are also significantly cheaper than biologics as JAK inhibitors are chemically synthesized.
What are they used for?
Janus kinase inhibitors have shown beneficial effects in a variety of immune-mediated conditions affecting the skin, joints, and gastrointestinal tract. JAK inhibitors have also been used successfully in conditions with JAK mutations such as polycythaemia vera, essential thrombocythemia, and myelofibrosis.
Tofacitinib received FDA approval in the US for the treatment of rheumatoid arthritis in 2012, and in 2017/18 also for psoriatic arthritis and ulcerative colitis.
Ruxolitinib was approved by the TGA in Australia in 2013 for the treatment of myelofibrosis. It also became FDA-approved for the topical treatment of mild to moderate atopic dermatitis (2021), and non-segmental vitiligo in adult and pediatric patients 12 years of age and older (2022).
Baricitinib was TGA-approved in Australia in 2018 for the treatment of rheumatoid arthritis and, in 2021, for moderate to severe atopic dermatitis. Approval for this indication has also been granted by the European Union and Japan. Upadacitinib was approved by Medsafe New Zealand for the treatment of adults and adolescents from the age of 12 years with moderate to severe atopic dermatitis in 2021.
In 2020, delgocitinib cream was approved in Japan for the treatment of atopic dermatitis in adults, and was granted an FDA fast-track designation for the treatment of chronic hand dermatitis.
Their use in dermatology;
Janus kinase inhibitors have been approved for use in or are currently under investigation for the treatment of:
● Atopic dermatitis
○ Topical — delgocitinib, ruxolitinib, tofacitinib
○ Oral — baricitinib, tofacitinib, abrocitinib
● Alopecia areata
○ Oral — tofacitinib, ruxolitinib, baricitinib
● Vitiligo
○ Topical — ruxolitinib, tofacitinib
○ Oral — tofacitinib
● Plaque psoriasis
○ Topical — ruxolitinib, brepocitinib
○ Oral — tofacitinib, baricitinib, peficitinib, deucravacitinib, filotinib, delgocitinib,
itacitinib
○ Oral tofacitinib for nail psoriasis
● Other dermatoses
○ Chronic hand dermatitis — topical delgocitinib
○ Dermatomyositis — oral ruxolitinib, tofacitinib
○ Graft versus host disease (GVHD) — oral ruxolitinib, baricitinib, itacitinib — as
prophylaxis or treatment of acute or chronic GVHD
○ Lichen planus/lichen planopilaris — topical ruxolitinib, oral tofacitinib
○ Systemic lupus erythematosus/discoid lupus erythematosus — oral baricitinib,
elsubrutinib, upadacitinib
○ Granulomatous disorders including sarcoidosis, granuloma annulare, necrobiosis
lipoidica — oral tofacitinib
Single case reports or small case series reporting response to JAK inhibitors include: chronic actinic dermatitis, drug hypersensitivity syndrome (DRESS), hypereosinophilic syndrome, morphoea, eosinophilic fasciitis, and hidradenitis suppurativa.
Possible side effects
● Nasopharyngitis
● Infection of upper respiratory and urinary tracts
● Headache
● Nausea and diarrhea.
Contraindications to using JAK
● Hypersensitivity to the drug or any of the product excipients.
● Concurrent biologic agents or other potent immunosuppressant agents.
● Severe liver impairment.
● Pregnancy and lactation: Tofacitinib and baricitinib are rated Category D in Australia as
teratogenic effects have been shown in animal studies.
Written by: Khalid Nagshabandi, medical student.
References:
Dermnet
open dermatology journal
http://ssdds.org/wp-content/uploads/2019/01/SSDDS-LOGO.png
0
0
Editorial Team
http://ssdds.org/wp-content/uploads/2019/01/SSDDS-LOGO.png
Editorial Team
2023-02-08 10:34:16
2023-02-08 17:34:50
Janus Kinase (JAK) Inhibitors in Dermatology