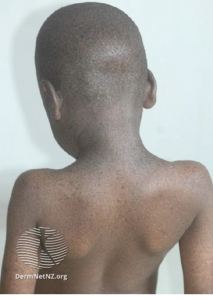 Xeroderma pigmentosum (XP) is a rare autosomal recessive DNA repair disorder characterized by enhanced UVR sensitivity, early pigmentary alterations, UVR-induced skin and mucous membrane malignancies, and, in some cases, progressive dementia. Moritz Kaposi, a dermatologist, first reported XP in 1874, coining the word "xeroderma" to describe the dry or xerotic skin quality of his four XP patients. While early research suggested that UVR played a role in the disease's development, it wasn't until 1968 that the sickness was linked to faulty DNA repair in cultured skin fibroblasts. XP subtypes or "complementation groups" were discovered as a result of this; XP-variant is the only form of XP with intact DNA excision repair capacity.
Males and females are equally affected by Xeroderma pigmentosum (XP), which is found worldwide but has a wide range of occurrence. The estimated incidence in the United States and Western Europe is one per million live births, according to retrospective investigations. Incidences as high as 15 to 20 per million in Libya and 10 to 50 per million in Japan have been reported in other research. Due to more frequent consanguineous marriages, incidences in Northern African and Western Asian nations such as Libya, Tunisia, Morocco, and Pakistan may be greater. Consanguinity, on the other hand, isn't thought to account for all of the global differences.
Early-onset pigmentary skin alterations, early development of skin malignancies (typically in the first decade of life), and ocular signs, such as photophobia, conspicuous conjunctival injection, and severe keratitis, are all common features across all xeroderma pigmentosum (XP) groups. Neurologic diseases, such as sensorineural hearing loss and gradual cognitive impairment, are seen in certain patients.
Skin cancer — Squamous cell cancer (SCC), basal cell carcinoma (BCC), and melanoma all occur more frequently in XP than in the general population, and at a younger age. The odds of nonmelanoma skin cancer (NMSC) and melanoma were shown to be 10,000-fold and 2000-fold greater in a 40-year National Institutes of Health follow-up study of 106 XP patients, respectively, than in the general population.
Skin cancer is the most prevalent type of cancer connected with XP, although multiple studies suggest that XP patients may be at an increased risk of other malignancies as well. In 142 consanguineous French families of North African origin with an XPC mutation, an increased frequency of hematologic malignancies, such as myelodysplastic syndrome, acute myeloid leukemia, and acute lymphoblastic leukemia, was observed. Colorectal cancer susceptibility has been linked to XPG single nucleotide polymorphisms, particularly among Asians. In nonsmoking Chinese female patients, XPD polymorphisms were found to be associated with the risk of non-small cell lung cancer.
A child with acute sun sensitivity with minimum exposure, early and prominent freckling (before the age of two years), and skin cancer within the first decade of life should be suspected of having xeroderma pigmentosum (XP). Photophobia with conspicuous conjunctival injection, severe keratitis, sensorineural hearing loss, and increasing cognitive impairment are other clinical symptoms that point to the diagnosis. Clinical symptoms, a family history consistent with autosomal recessive inheritance, and/or confirmatory genetic tests are used to make the diagnosis.
Dermatologists, ophthalmologists, oral surgeons, geneticists, and neurologists are part of a multidisciplinary team that treats individuals with xeroderma pigmentosum (XP). The pillars of treatment are strict sun protection and avoidance, diligent clinical follow-up with regular skin and eye examinations, and appropriate and early treatments of any premalignant or malignant skin lesions.
Patients with xeroderma pigmentosum (XP) die most often from metastatic skin cancer, followed by neurodegeneration. Patients with neurodegeneration die at a significantly younger age than patients without neurodegeneration, with a median age of 29 versus 37 years.
Written by: Lama Altamimi, medical intern.
Reference: https://www.uptodate.com/contents/xeroderma-pigmentosum?search=xeroderma%20pigmentosum&topicRef=3004&source=see_link
http://ssdds.org/wp-content/uploads/2019/01/SSDDS-LOGO.png
0
0
Editorial Team
http://ssdds.org/wp-content/uploads/2019/01/SSDDS-LOGO.png
Editorial Team
2022-04-15 15:13:21
2022-04-15 15:13:49
Xeroderma pigmentosum