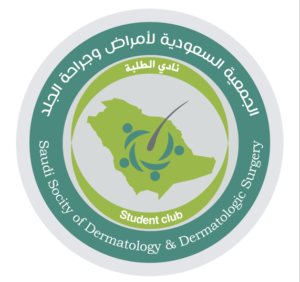 The Dermatology Student Club is an initiative for students interested in pursuing a further career in the field of dermatology, as well as to students who wish to enhance their knowledge and skills in the dermatological aspect of medicine. The club aims to create a network between students, residents, and faculty members for the exchange of ideas and experiences related to education, research and community service within dermatology. Our vision is to foster a warm, and encouraging environment for all students and members.
MISSION
• Enhance students' knowledge and skills in dermatology.
• Promote students involvement in dermatology research.
• Cover local and international dermatological events.
• Promote awareness and community service in dermatology.
• Offer residency counselling and guidance to interested students and interns.
• Create a network between students, residents, and faculty members.
EVENTS
The Dermatology Student Club will accompany the Saudi Society of Dermatology and Dermatologic Surgery events and students are welcome to attend, join and get involved in various activities of the organizing committee.
SOCIAL NETWORKING
Taking advantage of the current advances in technology and social networking, the Dermatology Student Club will increase its reach to students and members through our
Twitter, Instagram, and Snapchat accounts @dermclub.