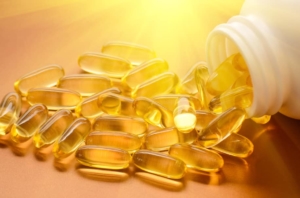 Vitamin D is a fat-soluble hormone found in the body that serves many purposes, most famously bone formation. Although vitamin D is most important for bone health, it also plays a key role in many of the body's other functions including but not limited to; antimicrobial, antiproliferative, anti comedogenic, and antioxidative processes. Vitamin D is gained through diet, supplements, and exposure to sunlight. In regards to dermatologic diseases, and more specifically in the treatment of acne vulgaris, the antimicrobial properties of vitamin D have been an interesting area of research in recent years.
  It has been established that acne vulgaris patients were more likely to have deficient vitamin D levels than controls. Variable associations have been made between the severity of acne lesions and deficient vitamin D levels, although some studies have shown improvement in inflammatory acne lesions when patients were given vitamin D supplementation. This improvement is restricted to inflammatory lesions, while non-inflammatory lesions showed no improvement. This could be due to vitamin D's antimicrobial properties, as inflammation caused by propionibacterium acnes is significant to the pathogenesis of acne vulgaris. Another association between vitamin D levels and acne vulgaris is linked to sebaceous gland activity, in which it was found that lower levels of vitamin D stimulate lipogenesis in sebaceous glands. The increased lipogenesis promotes inflammatory lesions in acne vulgaris.
 These findings open the door to the possibility of using topical vitamin D analogues in the treatment of acne, as well as screening acne vulgaris patients for Vitamin D deficiency. As of today, using vitamin D in the treatment of acne is grade B recommendation with IIb level of evidence.
Written by: Hadeel Awartani, Medical Student
Resources:
1-Amal Ahmed Mohamed, Eman Mohamed Salah Ahmed, Rasha T.A. Abdel-Aziz, Halaa H. Eldeeb Abdallah, Hadeel El-Hanafi, Ghada Hussein, Maggie M. Abbassi & Radwa El Borolossy (2020) The impact of active vitamin D administration on the clinical outcomes of acne vulgaris, Journal of Dermatological Treatment, DOI: 10.1080/09546634.2019.1708852
2-Navarro-Triviño FJ, Arias-Santiago S, Gilaberte-Calzada Y. Vitamin D and the Skin: A Review for Dermatologists [Internet]. Actas Dermo-Sifiliográficas (English Edition). Elsevier Doyma; 2019 [cited 2021Apr23]. Available from: https://www.sciencedirect.com/science/article/pii/S157821901930112X
3-Mostafa WZ, Hegazy RA. Vitamin D and the skin: Focus on a complex relationship: A review [Internet]. Journal of advanced research. Elsevier; 2015 [cited 2021Apr23]. Available from: https://www.ncbi.nlm.nih.gov/pmc/articles/PMC4642156/
4-Study links vitamin D deficiency with acne [Internet]. Dermatology Times. [cited 2021Apr23]. Available from: https://www.dermatologytimes.com/view/study-links-vitamin-d-deficiency-with-acne
5-Vitamin D for Acne: Benefits, Uses, & Effects of Vitamin D Deficiency [Internet]. Healthline. 2021 [cited 23 April 2021]. Available from: https://www.healthline.com/health/vitamin-d-for-acne
http://ssdds.org/wp-content/uploads/2019/01/SSDDS-LOGO.png
0
0
Editorial Team
http://ssdds.org/wp-content/uploads/2019/01/SSDDS-LOGO.png
Editorial Team
2021-04-30 20:14:15
2021-04-30 20:14:59
Vitamin D in Acne