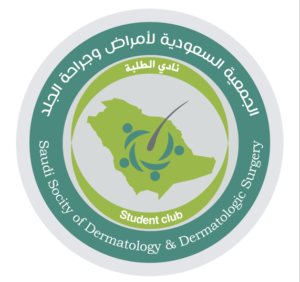 Dear Member, we look forward to having you as part of our family. Our membership is open to all medical students and interns enrolled at any University or Hospital in the Kingdom of Saudi Arabia. To do so kindly follow the simple steps:
1. Fill in the registration Link https://goo.gl/forms/aE8mVLqEjM8wnfgf2
2. Complete the Registration fee (100 SAR) Payment :
Transfer Registration fee to the following society account
(Registration is not guaranteed until payment is received)
Name of Bank: Saudi British Bank (SABB)
Name of Account: Saudi Society of Dermatology
Account No.: 001 – 004829 – 001
IBAN: SA90 4500 0000 0010 0482 9001
Swift Code: SABBSARI
3. In order to CONFIRM your registration, a copy of the payment receipt and college ID should be sent to the following e-mail: studentclub@gmail.com
4. By completing All prior steps, you will get a one-year membership to the Dermatology Student Club within 48hrs.
Membership Offers :
A Dermatology Student Club membership card.
Discounts or Free admission to Dermatology Student Club events.
Discounts or Free admission to the Saudi Society of Dermatology events.
Priority in joining Awareness and health campaigns.