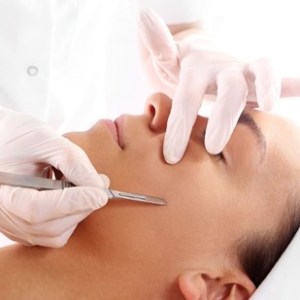 Dermaplaning is a simple non-invasive outpatient procedure which has gained popularity through social media platforms as an easy way to achieve a smoother skin complexion, remove unwanted hair on the face and prevent acne vulgaris. Although this procedure has only recently become well-known, it has been performed by dermatologists and licensed aestheticians for many years.
  Dermaplaning exfoliates the face by using a small scalpel blade to remove dead skin cells from the upper epidermis and facial hair. The removal of this superficial layer of skin offers the cosmetic benefit of achieving a more radiant and even texture complexion, as well as minimizing fine wrinkles and reducing the appearance of acne scars. As with any exfoliating procedure, dermaplaning allows deeper penetration of skin products such as moisturizers and serums which may contribute to the improved appearance of skin post-procedure. This is why dermaplaning may be of great benefit in patients with hyperproliferative disorders such as eczema or psoriasis, as removal of the cellular debris would allow proper penetration of hydrating treatments.
  Although dermaplaning is considered a low-risk procedure, it does not come without side effects such as skin hypersensitivity directly after or infection in rare cases. It is advised to apply protective sunscreen to reduce the risk of hyperpigmentation of the new skin layer and apply soothing agents to reduce inflammation.
  Despite the renewed public interest, patients should take into consideration the possible risks of dermaplaning especially if they plan to do it themselves. Improper tools or technique may result in injury or infection, and it is best to consult your dermatologist before self-performing this procedure.
Written by: Hadeel Awartani, Medical Student
Resources:
1- Dermabrasion and Dermaplaning  https://www.hopkinsmedicine.org/health/wellness-and-prevention/dermabrasion-and-dermaplaning
2- Townsend R (2017) The Use of Advance Dermaplaning in Clinical Skin Care and Treatment. Clin Dermatol Res J 2:2. doi: 10.4172/2576-1439.1000117
3- Dermaplaning: Efficacy, Side Effects, and More https://www.healthline.com/health/beauty-skin-care/dermaplaning
4- Pryor L, Gordon CR, Swanson EW, Reish RG, Horton-Beeman K, Cohen SR. Dermaplaning, topical oxygen, and photodynamic therapy: a systematic review of the literature. Aesthetic Plast Surg. 2011 Dec;35(6):1151-9. doi: 10.1007/s00266-011-9730-z. Epub 2011 May 2. PMID: 21533984.
http://ssdds.org/wp-content/uploads/2019/01/SSDDS-LOGO.png
0
0
Editorial Team
http://ssdds.org/wp-content/uploads/2019/01/SSDDS-LOGO.png
Editorial Team
2021-02-12 20:53:19
2021-02-12 20:55:44
What is dermaplaning?